Each year, Dunnhumby, the global leader in Customer Data Science who empower businesses everywhere to compete and thrive in the modern data-driven economy, meet in India for their APAC meeting. Here, their management team establishes and communicates the road map for the year ahead. As part of this global get together, Dunnhumby also invests in a significant team building activity to bring their team together, share a common goal and celebrate the achievements of the last year.
Key Outcomes

Every employee plays a vital role in the organisation
The importance of all individuals being mindful of their use of resources in a world of uncertainty and volatility.
The activity should make a statement. It should be "Larger than Life!"
Conceptualisation & Development
Considering the client's objectives, the product team from d'frens Catalyst India, developed a concept that would celebrate each employee's contribution using art. The art would be made using recycled materials, and the final artwork would be recyclable. Dot art – otherwise known as pointillism – covers many forms of art. Artists, graphic designers, photographers and illustrators are all experimenting with this exciting art technique. Originating from one of the oldest known forms of art - Aboriginal Australian Dot Paintings.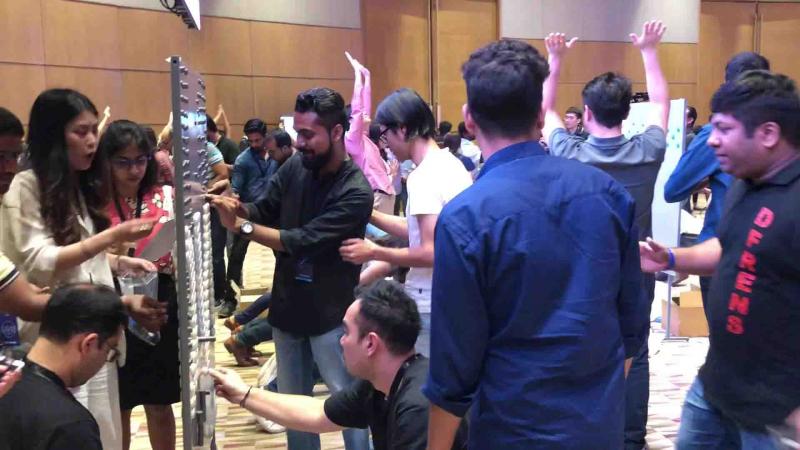 On the Day
On 5 September, 600 Dunnhumby employees gathered at the Andaz Hyatt, New Delhi. Participants were divided into 30 teams of 20 participants.
After a short introduction to the activity, teams set about to earn bottle caps of different colours by completing fun, active challenges. The bottle caps would be of multiple colours, each colour representing a particular service type. Bottle caps earned, teams set about to affix the magnetised bottle caps to art panels mounted on 4 feet high metal panels! Each team was required to create two panels of the overall giant artwork. Teams had full creative license. The only stipulation was that they must fill any text with white bottle caps. Teams had 1 hour to complete challenges for bottle caps and complete their artboards.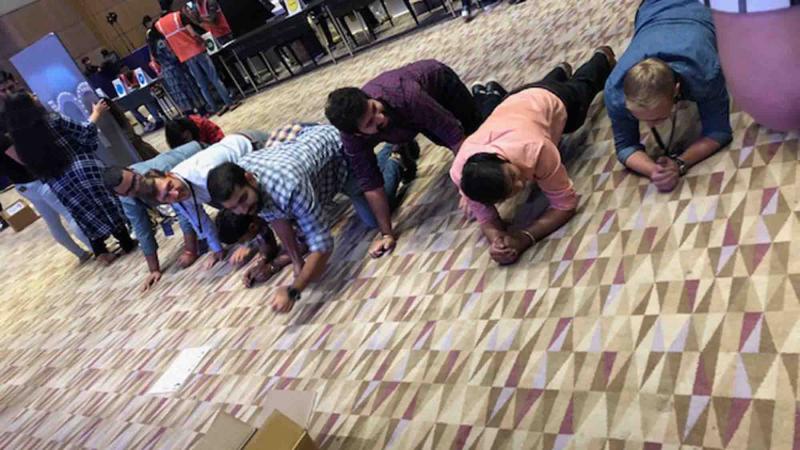 Once complete teams were engaged in a debrief. An analogy between individual employees and bottle caps and how each has a vital role was made. The completed artwork was likened to the complete customer solution that Dunnhumby offer's its customers. The importance of recycling and reusing resources.
While debrief for the activity began, behind the scenes, the team from d'frens started assembling the 60 artboards into one art installation. At the end of the debrief, the completed art installation was unveiled to cheers and joyful celebration.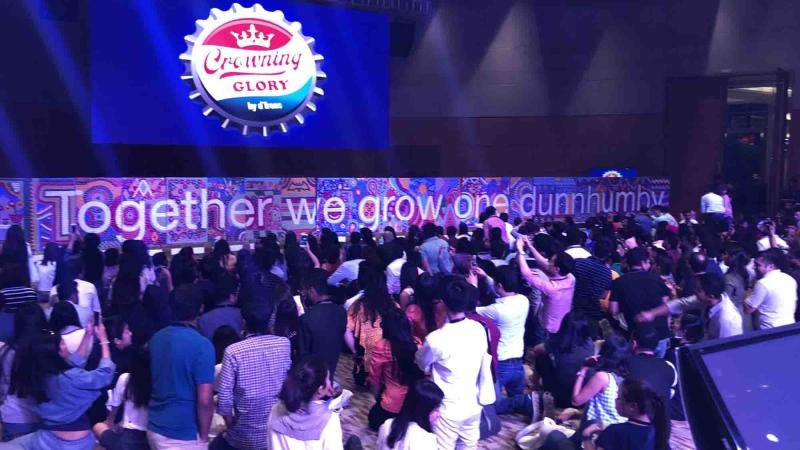 Result
Crowning Glory exceeded expectations as a high impact activity with tangible outcomes that met the client's objectives. All participants were fully engaged from start to finish. It was a real celebration of shared effort. The importance of each individual's role in the organisation was realised. A diverse cross-cultural team was bonded through shared experience.
The artwork has been installed at their workplace is a testament of their collective spirit and effort.